That's right we celebrated Halloween in September. Disney offered a great deal to Florida residents. With a two night stay at a selected Disney resort, you got 2 free tickets to Mickey's Not So Scary Halloween. Tickets are normally $59 for adults and $53 for kids under 10. How could I pass that up?
It is actually one of my favorite Disney events. The Magic Kingdom closes at 7pm and re-opens to a minimal number of people to celebrate Halloween. Even adults get dressed up and Treat or Treat. Yes Jason and I do also.
We stayed at Port Orleans, Riverside (formally known as Dixie Landings). It is a themed after the old south. It is considered a moderate priced Disney resort. The landscape is pretty and quaint. I love the paddle wheel by the food court. There is a river you can walk along to totally lose yourself in the theme of it all. Disney resorts let you escape from the everyday.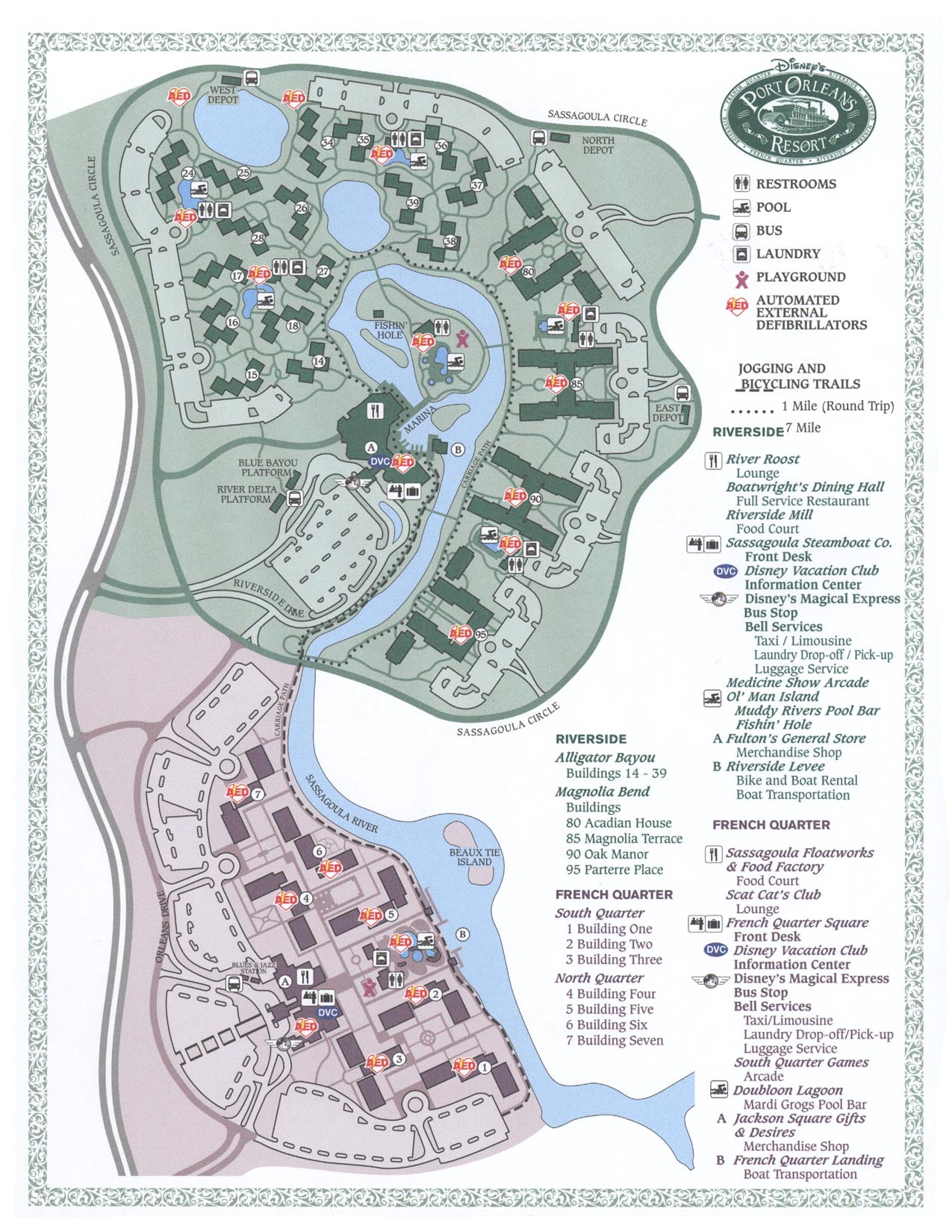 We hopped on the resort bus in our costumes and headed off to the Magic Kingdom. I think we gave the other vacationers something to talk about. Remember this was Sept 18th, so Halloween costumes were a little out of place.
We were greeted by giant pumpkin Mickey's and Halloween music pumped out into the air. We were given our trick or treat bags and sent in to have a magical evening. All the popular rides were open with no waiting. It is one of the only times you can continuously ride.
First, go to Tomorrowland. Many of our favorite rides are here.
The Monster, Inc Laugh Floor can be really fun. There is audience participation. The more lively the audience the more laughs for you.
Tomorrowland Transit Authority takes Guests of all ages for an elevated tour of Tomorrowland. Relax and enjoy a leisurely 10-minute journey above the Tomorrowland area aboard this pollution-free mass transit system. Each car seats 4 Guests with 2 riding forward and 2 riding backward. It also gives you a small look inside Space Mountain, which is closed right now for refurbishment. The lights are on an you can see the frame work of the tracks. It is a must see.
You need to ride the tea cups a few times. Just don't eat before hand.
Mikey's PhilharMagic in the Fantasyland area is a 12-minute 3D movie starring Mickey Mouse and Donald Duck that features scenes from classic Disney films. When Donald Duck decides to "borrow" Mickey's sorcerer's hat from Fantasia, he plans to conduct a magical symphony. But things do not go as expected, and he ends up on a whirlwind tour of some of the most memorable scenes in Disney animation history. Be on the lookout for a few extra special surprises!
Next is Frontierland, at the favorite place for everyone of the evening.
The Haunted Mansion. The only long line you will have all night. During portions of the evening there is a storyteller in front entertaining the crowd. All the ghost are out having a party so enjoy.
Don't forget to catch a ride on Big Thunder Mountain. Listen to the railroad wheels chug-chug, then ratchet and race across seemingly rickety tracks. Swoop around sweeping turns and tear up rolling hills that dip or drop into canyons and caverns, slip under a booming waterfall or swish through the ribs of a dinosaur skeleton. The steam whistle blows - another curve is coming up better hold on!
And keep your eyes open, there are spectacular sights through the Big Thunder Mountain Railroad gold-mining camp and cactus-scattered desert scape. Be on a lookout for critters. A bleating billy goat guards a mountain peak. A family of opossums hangs overhead at the entrance to a cave. Bats, chickens and donkeys complete the old western-themed scenes.
Adventureland is just around the corner.
Pirates of the Caribbean, a classic attraction. The Pirates of the Caribbean journey begins at the end of the Adventureland area where a skeleton pirate sits in a crow's nest attached to a ship's mast. He guards the stately Spanish fortress, El Castillo - Torre del Sol. Pass under his black sail and pirate flag to the cool, covered, cavernous queue quarters. If ye be seekin' adventure, climb aboard a boat.
We ride this every time. It is a great one to escape from the Florida heat, but expect long lines during regular park hours.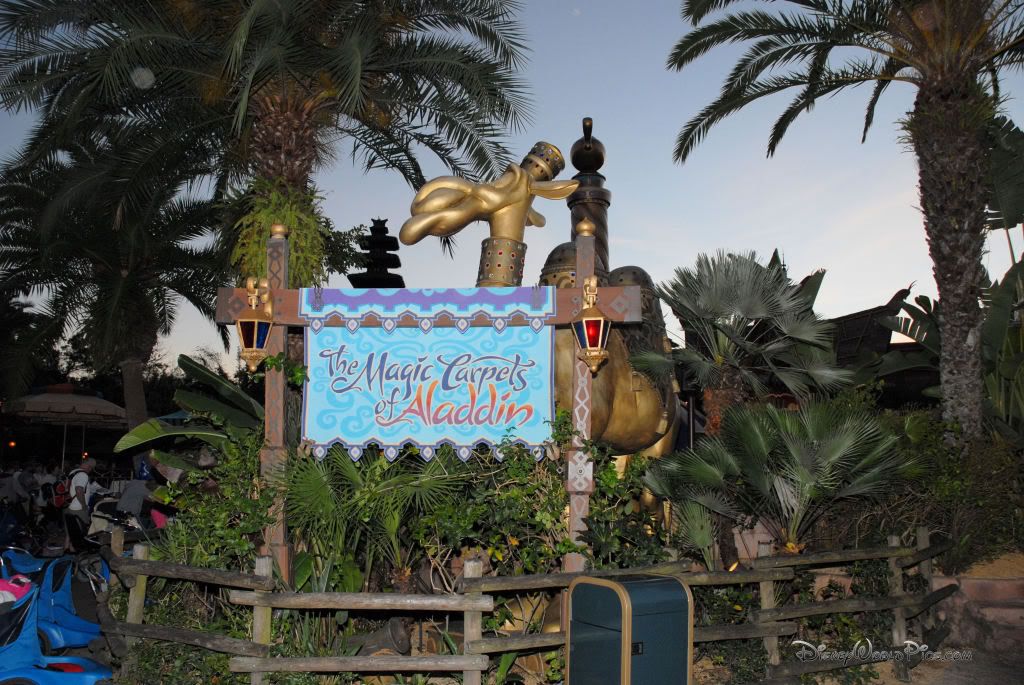 The Magic Carpets of Aladdin is a fanciful flight for all ages aboard a flying carpet. Soar around a giant genie bottle on your very own magic carpet! This exotic adventure is geared toward younger kids who love to make their carpet go up and down, or pitch forward and back. Be sure to watch out for the camel facing the ride who occasionally spits water at the carpets passing by. But don't worry. It's very unlikely you'll get even a little wet.
Each flying carpet vehicle accommodates a total of 4 people with 2 in the front seat and 2 in the back seat. Sit in the front seat to control the height of your flying carpet. Sit in the back seat if you want to control the forward and back pitch.
Make sure you hit up all the Candy Zones marked by these balloons. You can defiantly fill your treat bags to the brim. Also take the time to enjoy the decorations. They are only up during this event and the are amazing.
Now it's midnight - we have our candy and are super tired. Back to the hotel for a good night's sleep. Watch out for hitch hiking ghosts.